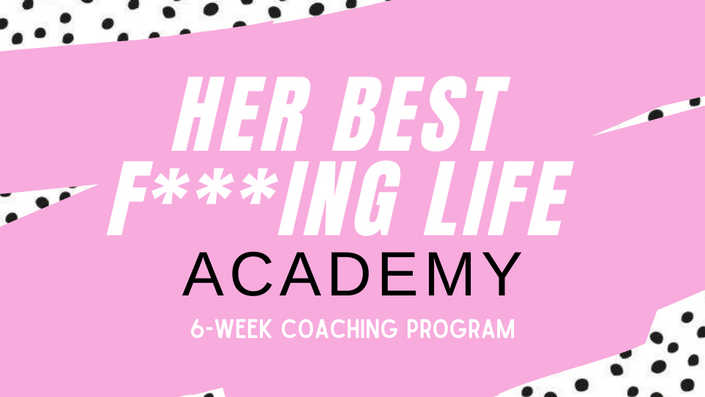 Her Best F***ing Life Academy
6-Week Coaching Program to Transform & Design Your Best Life!
Enroll in Course
DO YOU WATCH OTHER WOMEN AND WONDER HOW THEY

CREATE THE LIVES THAT THEY ARE OBSESSED WITH LIVING?
How is she so happy all the time? How does she stay so positive?
What does she know that we all don't know?
ARE YOU READY TO CREATE A LIFE THAT YOU
F***ING LOVE EVERY SINGLE DAY?
It's time to look forward to every single day, not just the weekends or the days on the calendar marked with special events.
DO YOU DREAM OF A LIFE THAT HAS YOU WAKING UP EACH DAY SAYING,

"THIS LIFE IS THE F***ING BEST" ?
That was what I chased after relentlessly after I got sober and started doing the self work. When I got that second chance to redo life, I refused to take advantage of that gift. I wanted to make every day of my life the best one it could possibly be.
Did it mean that there wasn't still days with disappointment, struggle, and hard sh*t? NO. But it did mean that I had to figure out how to take each day and face it the best way I possibly could.
This required mind, heart, & soul work.

This meant figuring out what my best f***ing life looked like.
Figuring out what it felt like.
Figuring out what it looked like.
Transforming my life to make it my reality.
Are you ready to do this with your own life?
Let's do the damn thing together, girl!
---
What is Her Best F***ing Life Academy!?
A 6 Week Coaching Program that walk you through designing and transforming your life
into one that YOU love!

If you are serious about creating that life you always envision in your head, now is the time. Why wait? Why push it off any longer? We get this one life to live. Why not make it the best one it can possibly be? Why not be obsessed and in love with everything about your life every single day?
YOU and ONLY YOU have the ability to make the life you dream of your reality.

But there has been some reason you just haven't done it yet. Some fear of judgment, some limiting belief, some voice in the back of your head telling you that you don't deserve it. Telling you that it is selfish. Telling you that those other women can have that life, but you can't.
GIRL. That's all BULLSH*T.
You have been wrong. SO wrong.

As a woman who has transformed her own life and designed it to be the one of her dreams, I'm ready to support you and teach you exactly how you can do it too. It's time to become that women you envision in your head and to live the life that she lives. Because you are that woman and that life IS capable for you right now.
---
How does the program work?
Each week, you will receive:
- Live Weekly Group Coaching Calls (via Zoom)
-Homework & Worksheets to Take Action & Implement
-Guest Coach Trainings & Videos (in Facebook Group)
- 24/7 Private FB Group for Community & Support
Live Weekly Group Coaching Call: Each week we will meet on Zoom for a Group Coaching call. These calls will cover each week's Focus Topic. These calls will be packed with live Coaching, Actionable Homework Assignments, and be a space for us to drive conversation, ask questions, and really dive deeper into the topics and ideas together. THIS is the most powerful aspect of the Program. You're not just watching pre-recorded videos on your couch here, you're going to be fully present and immersed.

Homework & Worksheets: Tools and accountability to help you take action and implement the topics we are diving into and doing the work with. Just talking the talk isn't enough to change your life, it takes action!
Guest Coaches & Trainings: I'll be bringing in some of my favorite women to teach you even more! I've been fortunate enough to have my life influenced some incredible women, and I know they can bring you SO much valuable knowledge and learning in their areas of expertise.

24/7 Private FB Group for Community & Support: All members of the Academy will be added to a Private Facebook group because everything is better with a Community & Support! This will be where we stay connected each week, ask questions, share our work & wins, and become a girl gang of women transforming their lives together!
TOPICS will include:
Positive Mindset, Prioritizing Self Care, Morning/Evening Routine & Rituals, Healthy Boundaries, Decoding Our Self Worth, & more!
Now if you've been following me for a while, then you know my vibe. I'm going to keep you accountable. I'm going to say it like it is. I'm going to push you into a place of uncomfortable change.
Life doesn't change by staying comfortable, it changes by you taking action and creating real transformation.
---
You will also receive a Her Best F***ing Life Academy Certificate at the end of the 6 Weeks to celebrate and recognize your hard work, dedication, and completion of the Program!

"Sarah helped me break down the things I wanted to do into tactical goals."
- Tara, YouTube & Blogger
"You've helped me through one of the most difficult times in my life and allowed me to develop in this short time in ways I never imagined. You were empathetic, relatable, genuine, well-spoken, timely, and thorough. Even though initially we started with a specific area of focus in mind to work on, you catalyzed growth in literally all aspects of my life. Words cannot express my gratitude for the positive and sustainable impact you've made on my life."
- Private Client, 2019
"So first off let me start this by saying that Sarah is AMAZING. During our 4 weeks together I had major breakthroughs along with many life changing events. She was there to hold me accountable and to give me advice when I fell. I can definitely say I am in a better place since coaching with her"
- Crystal, Lifestyle & Fitness Coach
Your Instructor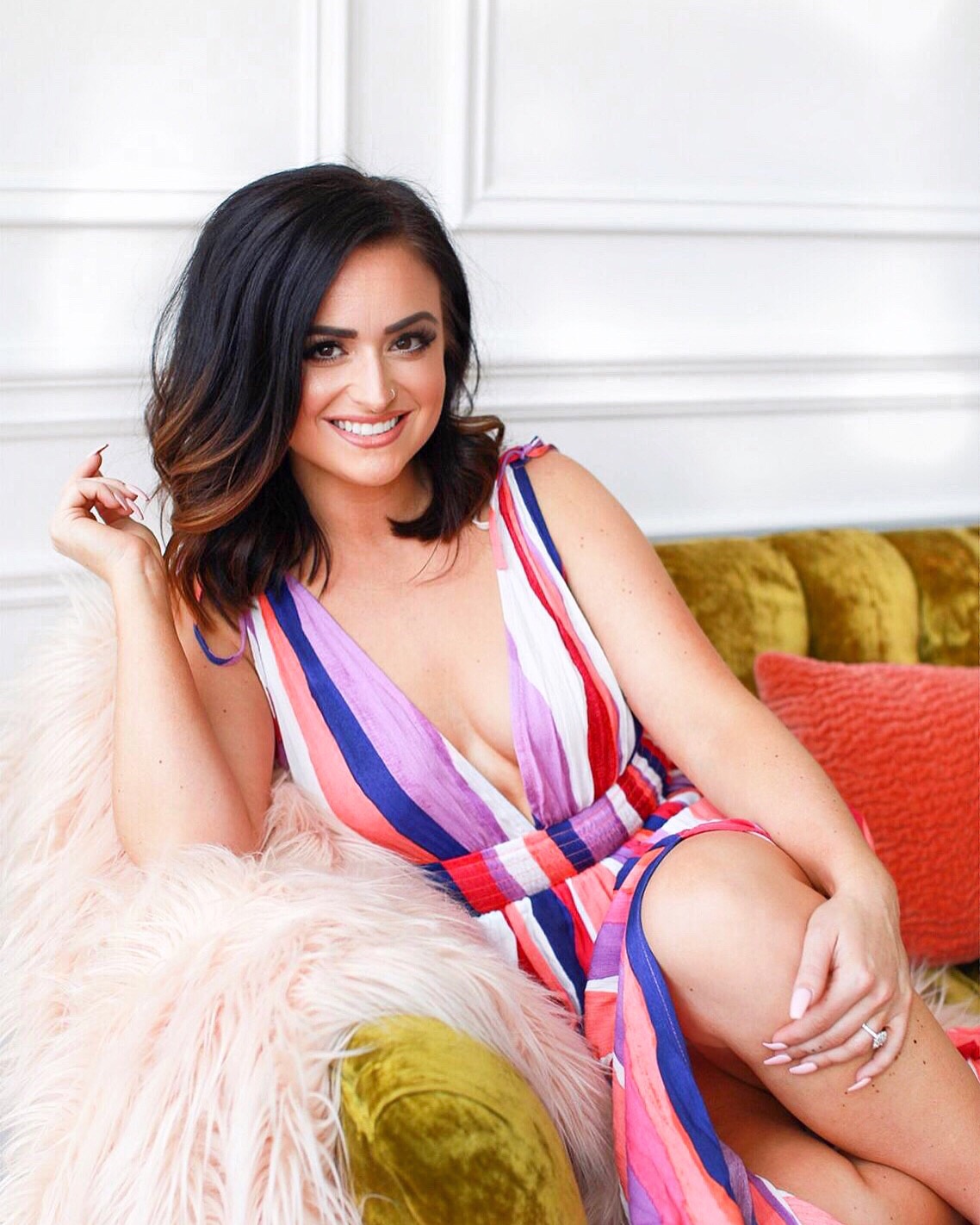 A 9x Self-Published author on Amazon and Kindle, Sarah brings her knowledge, experience, and expertise to women internationally through her coaching & courses! Her best-selling books reach audiences internationally that love her no-bullsh*t, never sugar-coated approach to life and teaching. She has written about everything from her sobriety journey to personal development and female empowerment! Sarah, her writing, and her story have been featured on MTV, Dateline NBC, Inspiring Lives Magazine, & Seen Magazine.
xo. Sarah
Course Curriculum
Private Facebook Community Link!
Available in days
days after you enroll
Week 1
Available in days
days after you enroll
Week 2
Available in days
days after you enroll
Frequently Asked Questions
When does the course start and finish?
The course starts Monday, July 3rd and runs for 6 Weeks!
How long do I have access to the course?
How does lifetime access sound? After enrolling, you have unlimited access to this course for as long as you like - across any and all devices you own.